Duane Eubanks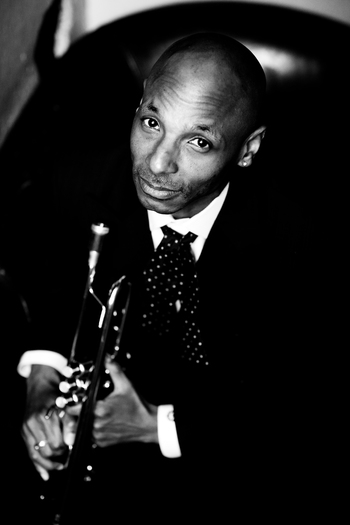 The Trumpeter
Genre: Straight ahead jazz
New York, NY
Duane Eubanks is a Jazz trumpeter. Duane Eubanks brings complex sophisticated Jazz to audiences to chew on throughout the sets. Class and intelligence are at the essence of what Duane Eubanks produces. Audiences can expect thoughtful solos and beautiful melodies when they are in the venue with Duane Eubanks.
Duane Eubanks has been inundated with music and musicians his whole life, so he puts out what was put into him. Despite him being so skillful with Jazz, he still has worked with artists like The Temptations, Alicia Keys, Talib Kweli, Mos Def, Wu Tang Clan, Freedom Williams, Kirk Franklin in various genres.
Duane Eubank would appeal to the "Music Appreciator." He is best paired with an audience who can notice and appreciate the flourishes that he adds to his music. Duane Eubanks primarily does straight ahead Jazz, but is just at home with bebop, or more mainstream jazz.
Duane Eubanks has performed everywhere from the Hollywood Bowl to Carnegie Hall to the Kennedy Center. He has toured throughout both Europe and Japan. He has been part of Grammy winning bands. He has studied and played with some of the greats. Duane says that with all the musicians he has performed with over the years, its not hard to be inspired musically.
When you are ready to book Duane Eubanks, please email or call Michael Scott. We look forward establishing a relationship with you.