Khu.éex'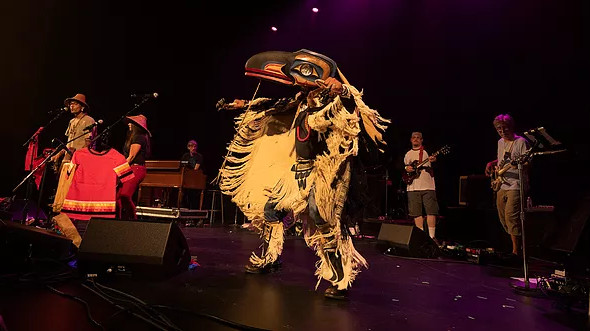 That Indigenous Funk
Genre: Jazz-Rock
Seattle, Wa
We are members of the Tlingit, Haida and Blackfoot tribes of Alaska and North America, and American jazz musicians. We are all involved with our culture and our cultural arts (both visual and conceptual) including actors, traditional story tellers, dancers, and cultural regalia makers. We are cultural spokespeople, traditional language instructors, health and wellness mentors, as well as music instructors and composers, involved with theater production.
Our sound evolved from a collaboration with Bernie Worrell (who passed away in 2016) and has grown to include the current lineup. The style of music ranges from Jazz, Rock, Funk and experimental styles. Our mission is to utilize spoken word, traditional Tlingit and Haida languages and experiment with traditional Alaskan Native melodies in a Jazz-Rock context.
Elements of performance art and improvisation are part of the group's reputation. Performing in traditional Alaskan masks to emphasize the storytelling aspects of the music. Social commentary around native themes and culture vs. contemporary society are also part of the dialogue.
Khu.éex' translates to Potlatch in the Tlingit language. Simply defined, it is a gathering, or sharing of music, dance, singing and storytelling. Testimonials about the effects of the live performances of Khu.éex' are always a positive and uplifting experiences. Also it's a good band for a broad age range. Young kids love to see the masks used in performances.